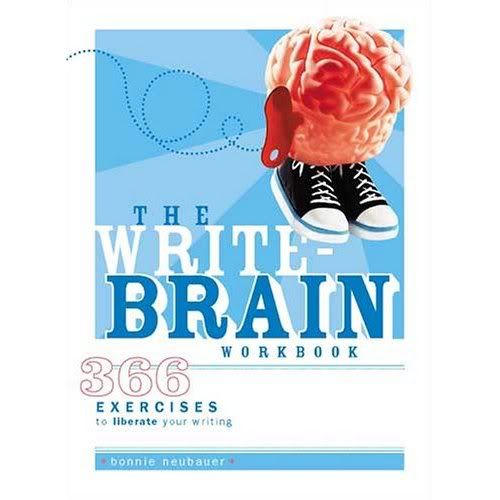 Bonnie Neubauer
is the brilliant author of "
The Write-Brain Workbook: 366 Exercises to liberate your writing
." (
also available on
DVD
)366 exercises is actually an understatement, since each of the daily exercises includes a secondary exercise, titled "Take the next step."
Each of the daily exercises begin with a scenario that challenges the writer to dust off the cobwebs deep in the crevices of creativity. To compliment the drills, the pages are beautifully illustrated with a flair that stimulates creativity just by flipping through it. In Ms. Neubauer's own words, "
The designers thoroughly explored and expressed each writing prompt, resulting in pages that are stunning, intriguing, varied, and beautiful.
"
A sample exercise:



Dear Diary-One

(from Day 27)



Circle one age option:
12 yr old girl
64 yr old beekeeper
20 yr old college student
42 yr old movie star
6 yr old boy

Circle one location option:
Live on a farm
Live in a penthouse
Live in a mansion
Live on the streets
Live with an aunt and uncle

You are now this person and this is where you live.
You just found a diary from 1864. Let the story unfold. Start with:

"Some people might not have opened..."


TAKE THE NEXT STEP:
If you knew no one would ever read what you write, would you:
Not write at all
Write a bit less
Write a lot more

How else would this affect your writing?



Look out for Neubauer's most recent book, "Take Ten for Writers: 1000 exercises to build momentum in just 10 minutes a day."



From Amazon

:


Looking for ideas? This book of ten-minute writing exercises gives you 100 exercises with ten different variables for 1,000 prompts. You'll learn to play around with starting phrases, the last sentence of the story, locations and more. It only takes ten minutes to open up your writing to boundless possibilities!



Title: Take Ten for Writers: 1000 exercises to build momentum in just 10 minutes a day
Paperback: 224 pages
Publisher: Writers Digest Books (August 11, 2009)
Language: English
ISBN-10: 1582975337
ISBN-13: 978-1582975337