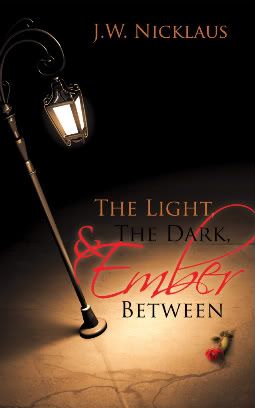 After I finished reading "The Light, The Dark, & Ember Between," I emailed the author,
"I'm still letting the book sink in, because I felt like I was on a little emotional roller coaster of "ooh, what's next! oh, that's sad! no, not sad--bittersweet! Sweet, it's sweet!" I guess I could say it feels draining, but in a good way, because it drains despair and fills you with hope."
J.W. Nicklaus's collection of fifteen short stories begins with "Emissary," a story about a father living in a lighthouse, with his son, daughter-in-law, and mysterious need to keep vigil over the ocean. With each page, the story "invit[es] the soul to wander in abysses of solitude."
(Kate Chopin,

The Awakening
) Just as the waves of the ocean roll into a crashing crescendo, "Emissary" progresses from mysterious to familiar, and just as the sea seduces the sailor, Nicklaus has gently coaxed the reader into
a somber place.

The first four stories emulate the four element discussed in the Preface -- Air, Earth, Fire and Water. With "Emissary" representing water, the subsequent three stories, "Requiem for Linny," "Steetlamp," and "Broken," honor the remaining three elements. The rhythm of the book continues with less overt connections, but there is a latent connection weaving the stories together. An unmistakable yin and yang is evident in the reoccurring presence of flawed and fragile men, contrasted by soft, yet strong women. The men struggle, the women survive.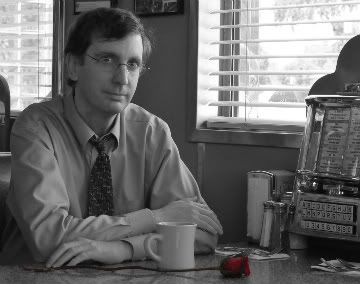 J.W. Nicklaus writes with a poetic beauty, using strong descriptions that perfectly capture the mundane moments which memories are made from. Almost every page contained a quotable phrase, such as on page 31, "To the untrained eye -- hell, to the unappreciative eye -- it all looks the same, don't it?"

There are certain books that epitomize a stage of the human condition and become "the" gift book for certain occasions. Graduating? Oh, the places you'll go! Pregnant? What to expect when you're expecting! Coping, or trying to cope, with a loss? "The Light, The Dark, & Ember Between!"

The vignettes of life that often pass as an ordinary moment will resonate with those struggling with life, with death, and everything between. "The Light, The Dark, & Ember Between" will be your emissary, your "bridge between loss and love."

Purchase a signed copy of "The Light, The Dark, & Ember Between" on the author's website.

(Hello Arizona! J.W. Nicklaus will be at Changing Hands Bookstore on Saturday July 25, 2009 at 2pm. Changing Hands is located at 6428 S McClintock Drive, Tempe, AZ 85283 Phone: 480-730-0205)

The Light, The Dark, & Ember Between
J.W. Nicklaus
American Book Publishing Group
Fiction-Short Story
ISBN-10: 1589825055
ISBN-13: 978-1589825055
196 pages
Paperback - May 14, 2009
Rating: Unforgettable

UPDATE: I'm not the only one who enjoyed "The Light, The Dark, & Ember Between." Visit my friend Sheila's blog, Book Journey, to read her two cents.