Mailbox Monday
is host by Marcia of
The Printed Page
.
Mailbox Monday
is the gathering place for readers to share the books that came into their house last week. Warning: Mailbox Monday can lead to envy, toppling TBR piles and humongous wish lists.
This week, I was lucky to find these books in my mailbox: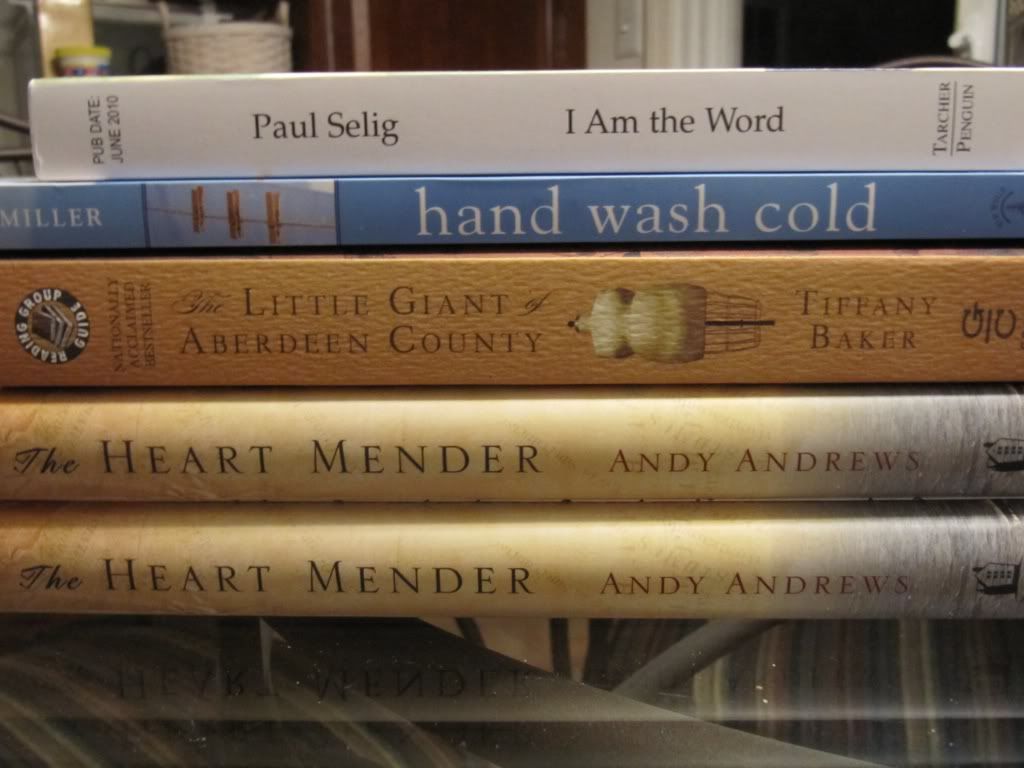 I Am the Word
by Paul Selig will be published in June 2010.
"In a series of enticing, irresistibly practical dialogues, the guides of I Am the Word identify the 'emotional boulders' -- residues of pain, fear, or anger -- that block our true nature.
hand wash cold
by Karen Maezen Miller published in May 2010
It's easy to think that meaning, fulfillment, and bliss are "out there," somewhere outside of our daily routine...the compelling voice of a contemporary woman reveals the happiness at the bottom of the laundry basket, the love in the kitchen sink, and the peace possible in one's own backyard.
The Little Giant of Aberdeen County
by Tiffany Baker published in 2009
Meet Truly Plaice -- part behemoth, part witch, part Cinderella.
The Heart Mender
by Andy Andrews published 2005, 2010
The Heart Mender is a story of life, loss, and reconciliation, reminding us the power of forgiveness and the universal healing experience of letting go.
Did you notice in the photo that there are two copies of
The Heart Mender
? The publisher graciously offered me a second copy for
Reminder List's
inaugural giveaway. Stay tuned to read the review and enter to win a copy for yourself!
What did you get in your mail box?