Jessica Seinfeld's Deceptively Delicious is more than a cook book geared for a child's palette. This book is chock full of dietary and nutrition information to help parents make the best choices. Beginning with a foreword by Dr. Roxanna Mehran and Dr. Mehmet Oz, the book includes nutrition advice from guru Joy Bauer. The recipes were tested on Seinfeld's children, affectionately referred to as, "The Kitchen Cabinet."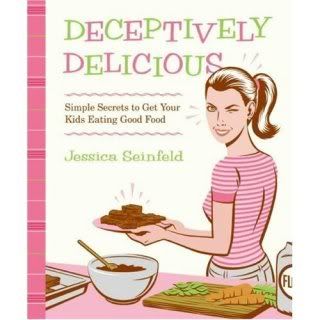 The early chapters explain how the program works, with advice on how to equip your kitchen, stock your pantry, and prepare the purees. Deceptively Delicious includes instructions on how to prepare purees from eleven vegetables and six fruits. Calorie counts and an explanation of the nutritional value of each fruit and vegetable is thoughtfully explained.
Once you are ready to cook, there are 186 recipes, over forty of the recipes are in the chapter titled, "Mealtime." The balance of the recipes are equally dispersed between breakfast and dessert. The author gives you a choice between purees to use in most of the recipes. For example, in the recipe for Peanut Butter and Banana Muffins, the recipe calls for either carrot or cauliflower and banana puree. Seinfeld claims that the purees blend into the recipes so that the flavor is "as invisible as possible."
Deceptively Delicious is a brilliant book to incorporate nutrition into almost any of your child's favorite dishes. Reminder List rates Deceptively Delicious as unforgettable, earning it three out of three stars. Visit Bons Vivants the week of May 9, 2010 to read a review on how the recipes taste.